Supertech Officers Enclave
Feature
Art of lush 140 acre development.
bullet Stunning views of the Aravalli range.
bullet Golf putting greens.
bullet Jogging and cycling tracks.
bullet Indoor games area with snooker, table tennis & much more.
bullet Located on main Sohna road, the township gets excellent connectivity with corporate hub, reputed educational
institutions and recreational developments in and around the area.
bullet Proximity to Kundli Manesar Palwal (KMP) Expressway.
bullet G.D Goenka school & K.R.Manglam University are also located nearby.
bullet 20 mins from major commercial hubs in Sector 48 & 49, Gurgaon.
bullet 25 mins from Cyber Park, 40 mins from International Airport.
Floor Plan





Location Map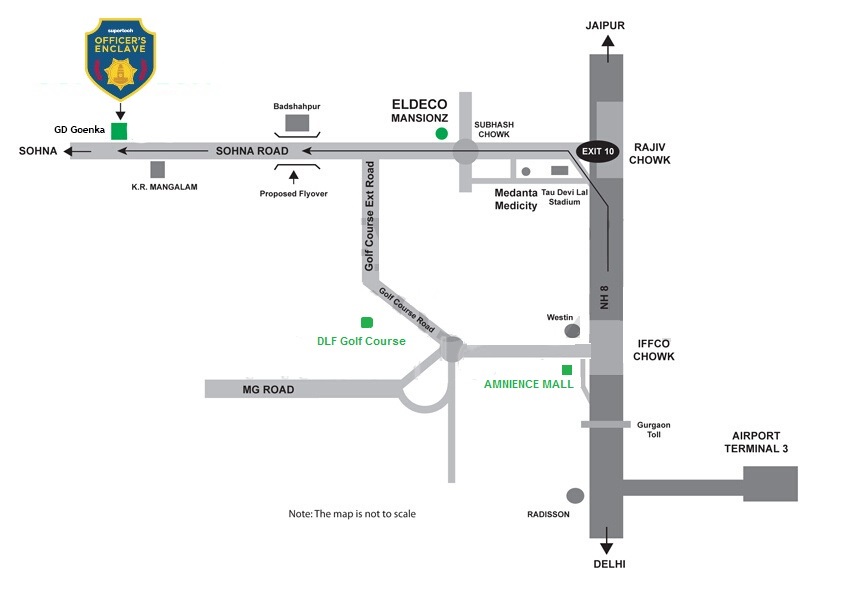 Price List
High Rise Homes – Construction Linked Payment Plan
Type
2 BHK TYPE A
2 BHK TYPE B
3 BHK
Area (Sq. Ft)
985
985
1,345
Price (Sq. Ft)
3,410 – 4,050
3,410 – 4,050
3,410 – 4,050
BSP(Rs.)
33.58 – 39.89 Lacs
33.58 – 39.89 Lacs
45.86 – 54.47 Lacs
Booking Amount (Rs.)
Rs. 3.5 Lacs
Rs. 3.5 Lacs
Rs. 4.5 Lacs
High Rise Homes – Subvention Linked Payment Plan
Type
2 BHK TYPE A
2 BHK TYPE B
3 BHK
Area (Sq. Ft)
985
985
1,345
Price (Sq. Ft)
3,710 – 4,350
3,710 – 4,350
3,710 – 4,350
BSP(Rs.)
36.54 – 42.84 Lacs
36.54 – 42.84 Lacs
449.89 – 58.50 Lacs
Booking Amount (Rs.)
Rs. 3.5 Lacs
Rs. 3.5 Lacs
Rs. 4.5 Lacs
Low Rise Homes – Construction Linked Payment Plan
Price (Sq. Ft)
3,390 – 3,850
BSP(Rs.)
46.60 – 52.93 Lacs
Booking Amount (Rs.)
Rs. 4.5 Lacs
Low Rise Homes – Subvention Linked Payment Plan
Price (Sq. Ft)
3,690 – 4,150
BSP(Rs.)
50.73 – 57.06 Lacs
Booking Amount (Rs.)
Rs. 4.5 Lacs
Property Features
Kitchen
Internet
Smoking Allowed
TV
Wheelchair Accessible
Elevator in Building
Indoor Fireplace
Heating
Essentials
Doorman
Pool
Washer
Hot Tub
Dryer
Gym
Free Parking on Premises
Wireless Internet
Pets Allowed
Family/Kid Friendly
Suitable for Events
Non Smoking
Phone (booth/lines)
Projector(s)
Bar / Restaurant
Air Conditioner
Scanner / Printer
Fax